Online casinos are doing what they can to attract more players and to increase the transparency of their games. Current gamblers and new pokie players are always concerned with the integrity of the casino games and whether they are getting a fair shake. Oshi Casino which is a provider of online casino games world-wide has come up with a novel solution to provide both transparency to their games and increase their reputation. Oshi provides Fair Play in conjunction with Slotcatalog.com
What is the new Fair Play feature at Oshi Online Casino?
The Fair Play (go fair with FairGo – little pun here) feature is quite simple but unique for online casinos as well as land-based casinos. As a somewhat new casino (est. 2015) with an original flare and an equal opportunity currency provider, such as Bitcoin and Ethereuman as well as all major currencies, Oshi is looking to gain the upper hand from its somewhat unoriginal and dated competitors.
The feature works as a source of information for each game. When you move your cursor over the game, you will see information for Layout, Volatility, RTP and Paylines. The Layout (horizontal/vertical lines) and Payline (winnable lines) features are helpful but for the most part, you can get that information from the game itself and just by giving it a quick look. Volatility and RTP are a different and provide some beneficial information.
Volatility provides the player with how much the game pays out and how often. For instance, if the volatility is Low it means that the payouts are very small, but wins are frequent. A game with a High volatility pays out very large amounts but not often. You could make the analogy that a Progressive Jackpot has a very high volatility because of its huge payouts, which are literally one in a million or higher.
RTP (Return to Player) is an indication of the chances of winning for a particular game. For instance, if you have an RTP of 95%, you will win on average $95 for every $100 played. Although on average you will lose, most players are aware that the House always has the advantage. All the player is trying to do is to decrease his chances of losing and to be on the winning side of the average. No matter what casino game you play, the House always has the odds in their favor.
How does Fair Play benefit Oshi Casino?
The feature is original in its presentation but is certainly not a revolution or even evolution of online gambling. The Fair Play feature is just another vehicle through which Oshi can stand out in the highly competitive and crowded online gambling market. It's a simple solution which should go a long way in making Oshi Online Casino a favorite among the educated and knowledgeable real money online players.
Australian Online Casino – Bonus codes and free spins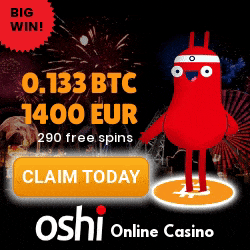 A bit lite in the Promo and Bonus area, Oshi still offers new players a generous Welcome Bonus as well as a Reload Bonus for those Australian casino players who keep coming back.
The Welcome Bonus is offered with your first 4 deposits including free spins and a matching bonus
The 1St Deposit Bonus includes: 100% match bonus + 180 free spins – EUR, CAD, USD, NOK, BTC, ETH 125% match bonus + 180 free spins – AUD to 125 EUR, CAD, USD – 400 AUD – 1,250 NOK – 1.25 BTC – 50 ETH
The 2nd Deposit Bonus includes:  50% match bonus to 125 EUR, CAD, USD – 400 AUD – 1,250 NOK – 1.25 BTC – 50 ETH
The 3rd Deposit Bonus includes: 50% match bonus to 125 EUR, CAD, USD – 400 AUD – 1,250 NOK – 1.25 BTC – 50 ETH
The 4th Deposit Bonus includes: 100% match bonus + 45 free spins – EUR, USD, NOK, BTC, ETH 125% match bonus + 45 free spins – AUD to 125 EUR, CAD, USD – 400 AUD – 1,250 NOK | 1.25 BTC – 50 ETH